Addio alla corona: ecco come hanno reagito i brand alla #MegExit
Sì, ne hanno parlato davvero tutti e non potevamo esimerci dal farlo anche noi. Perché il dramma reale è inevitabilmente rimbalzato sul web e ha dato spazio anche alla creatività dei brand, che si sono divertiti a sfruttare il momento (e il trend topic) per parlare con il proprio pubblico e strappare un sorriso.
Non sai ancora di cosa stiamo parlando? In breve, Harry e Meghan, i duchi di Sussex, hanno detto addio alla casa reale con un post su Instagram, dichiarando di voler rinunciare al proprio ruolo per rendersi indipendenti (anche economicamente).
LEGGI ANCHE: Il debutto su Instagram della Regina Elisabetta è un successo che fa concorrenza ai più quotati influencer
Nulla da eccepire sulla comunicazione, se non fosse che la Regina era totalmente all'oscuro della decisione. Una bella gatta da pelare per Buckingham Palace, insomma.
Per molti, ma non per tutti. #MeganAndHarry #MegExit #HarryAndMegan pic.twitter.com/otPUUC0zLt

— Carletto DJ® (@carlettoweb) January 10, 2020
Se i meme da parte degli utenti sulla vicenda non hanno tardato a esplodere, con commenti esilaranti, anche i brand non hanno perso tempo e hanno dato il via alla loro vena creativa sui social.
When you knew from the beginning that she is gonna tear your family apart #Megxit pic.twitter.com/YmoBMI4zOg

— Mr. Overlord (@DimitrisSotiri2) January 9, 2020
Ecco alcuni dei contenuti più belli e soprattutto più coerenti con il messaggio del marchio.
LEGGI ANCHE: I brand festeggiano la nascita del Royal Baby
IKEA, Siamo fatti per cambiare
Il colosso dell'arredamento punta tutto sul claim della sua ultima campagna, per dimostrarsi solidale con i duchi.
Il trasloco è una fatica reale per tutti. #HarryandMeghan pic.twitter.com/stwHVHDZmF

— IKEA (@IKEAITALIA) January 9, 2020
Corona, Solo alcune corone
Il brand di birra non poteva non commentare, chiamata direttamente in casa dal proprio nome.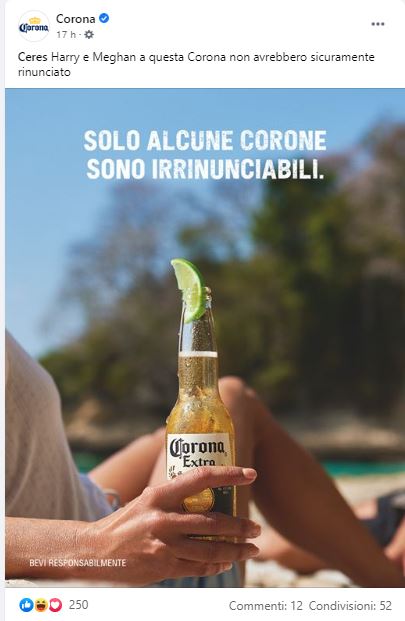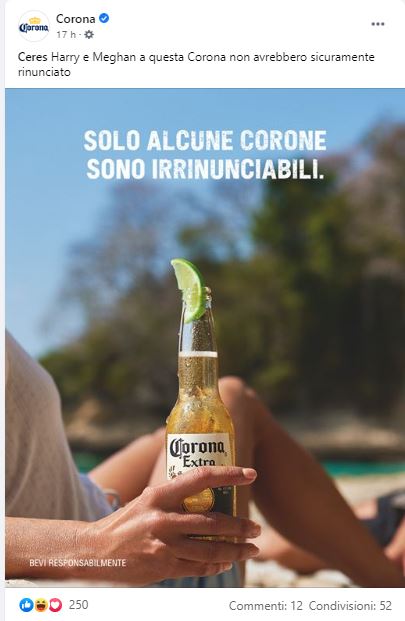 Ceres, Dopo un po' la corona stanca
Al richiamo dell'instant marketing (e del concorrente) risponde Ceres.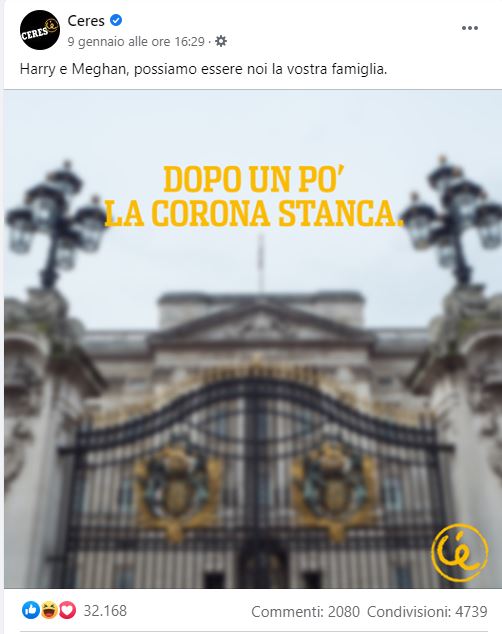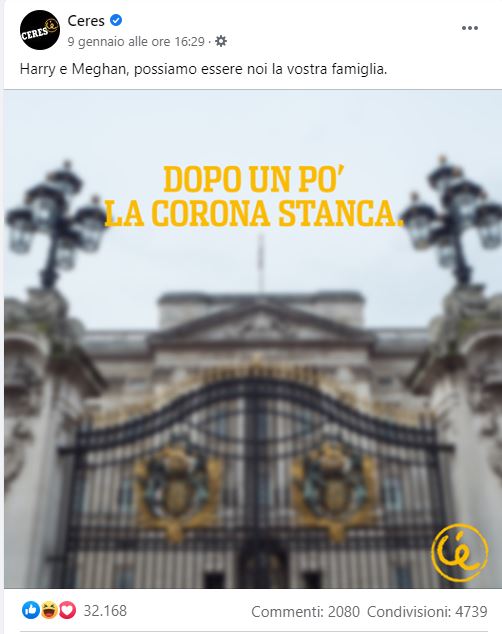 Roadhouse, Non serve la corona
La catena di ristoranti è solidale con i duchi e ricorda agli sposi che per un pranzo da re non serve essere dei reali.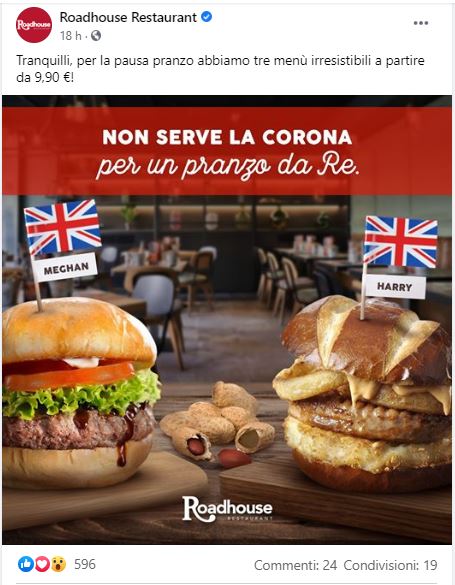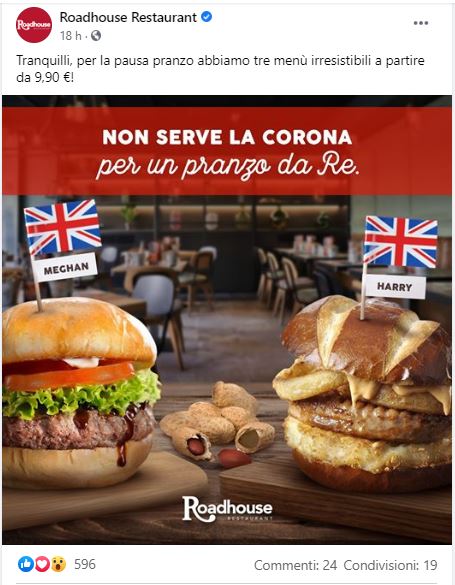 LEGGI ANCHE: Week in Social: dallo stop ai deepfake su Facebook alle novità su TikTok
Taffo, C'è una corona a cui non rinunciare
Con il suo solito stile tra ironico e grottesco, Taffo approfitta della #MegExit per ricordare i suoi servizi.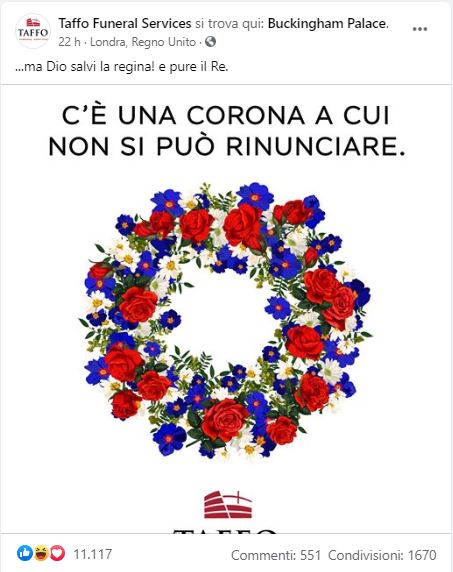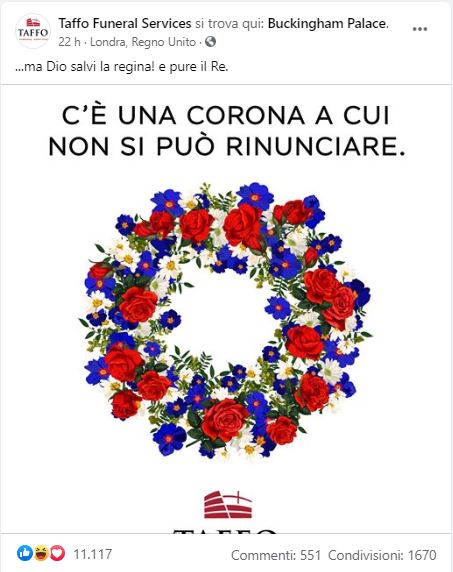 Source: marketing